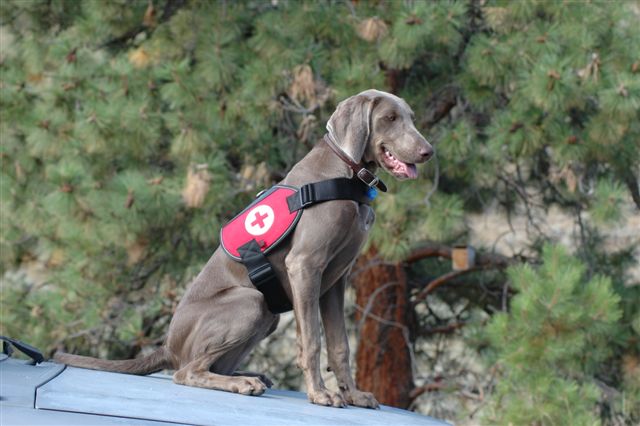 Trax Evangelist - Eva
Eva is a German- pedigreed Weimaraner. She comes from fully titled and health tested German parents. This big intelligent gal was screen for SAR aptitude as a pup and given to me to be trained for Search and Rescue duties.
Right from the start she showed loads of aptitude for her working roll. At nine months she attended BCSD training camp and passed the pup assessment with flying colours, in fact she went right to "dog in training" status. At 18 months she validated as a certified search and rescue dog. We had two good years, being deployed on several searches.
Unfortunately, in spring 2013, a knee injury took me out of the field. Still not fully recovered and not feeling "task ready" I have retired as a search dog handler and Eva and I are pursuing other activities. We are working on filling out her tracking and obedience profiles. There may even be some injured game recovering in her future as a blood tracking dog assisting members of our local gun club. She has loads of drive and loves to have a job.
Eva was bred in 2012 to a handsome fellow and had 5 girls and one boy. Of that litter one of her daughters has gone on to achieve her Canadian championship, Rally Novice Title, Field Dog Junior, Novice Shooting Dog, and Novice Retrieving Dog. Another daughter is now a vailidated B.C. Search Dog.
Pedigree
Titles
Two legs towards Rally Novice
Rally Novice High Point award – total of 100
TD tracking title
Health
OFA hips-good